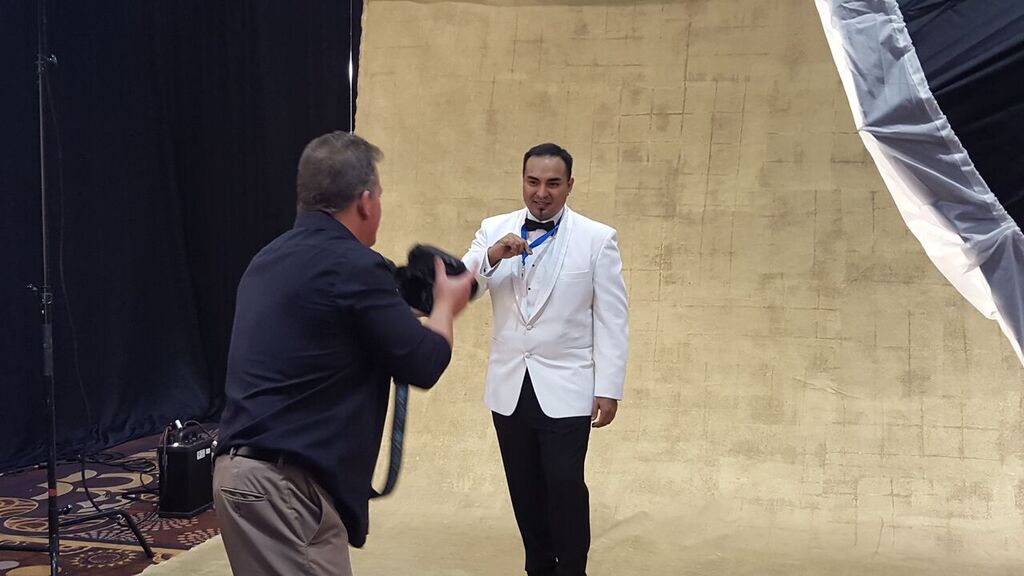 November was a super busy month...I had the Latin Grammys, My amazing trip to Waterloo, Iowa to visit the highly acclaimed Tenor Madness "Everything Saxophone & Heavenly Place" and we're getting super close to the release of my new album "IMAGINE"!
THE LATIN GRAMMYS
The Grammys in Vegas were amazing as usual!!!...So we didn't bring home the bacon, but hey... GETTING NOMINATED IS STILL SUPER AWESOME!..That brings my nomination count to 8 with 2 Grammy Awards...Not too bad for a country boy who watches too much Godzilla & Dragon Ball Z. The awards were magical and great as always. Did I mention that they had plenty of cold and free?!!! The dinners were top notch (They had full sized edible chocolate microphones for dessert). I even ran into "Saxophonist Great" Dr. Ed Calle at one of the after parties and bugged him relentlessly for like 10 selfies...haha!  It was great to catch up with the fellas from the studio production and since the Grammys were held in Vegas...I think we all know the phrase by now...Let's just keep everything in Vegas...lol....Thank You Ruben Ramos, Rick Fuentes, and The Mexican Revolution for allowing me to be a part of "The Revolution's History".
It means so much to me...more than you know...THANK YOU! 
CLICK HERE TO SEE PICTURES OF MY GRAMMY ADVENTURE!
DOWNBEAT MAGAZINE
In December Tenor Madness Inc. will be doing a feature on their endorsers and new TM Custom sax in DECEMBER'S ISSUE OF DOWNBEAT.  WOW There's gonna be a Mexican in DOWNBEAT! LOL Visit your local newsstand to check it out! I'm honored and stoked to be a part of this issue.
NEW ALBUM "IMAGINE" NEWS
Ok ...Recording is finished...Sounds Fucking AWESOME...!!! We're trying to finalize the graphics at the moment! Promotion starts mid December...Looking forward to sharing this with you all!!! Can't wait!
TENOR MADNESS
Waterloo, Iowa has corn, corn, and more corn, but it also has one of the most premier saxophone shops that has ever existed on planet Earth. My story with the highly acclaimed TENOR MADNESS doesn't involve a bunch of kids chasing me with machetes in a corn field(Children of the Corn montage). However, it is about an AMAZING TEAM of individuals that work together to make a DAMN GREAT PRODUCT! OK soooo...I was flown into the worlds smallest airport in Waterloo....Wait... lets do a rewind! I was flown into the world's smallest airport in all of IOWA...I had zero idea what to expect to be honest... I was pretty darn nervous...The goal of this trip was to meet up with the Tenor Madness Team and have "THE TEAM" help me find my DREAM TENOR SAX SET UP. The Tenor Madness Team consists of Randy & Shirley Jones, their finely tuned squad of saxophone geniuses and PIPA the Wonder Dog. Randy is one of the most elite saxophone designers of this generation. He's worked with all of the greats, fixed their horns and much more. Above all he's great people. It's not everyday you have one of the best ever take time out of his busy schedule and help you manifest the sound you've been hearing in your head all these years... I met Randy & Shirley at a show I played out in Iowa a few years back and we have been friends ever since. Every time I play in Iowa, Randy & Shirley always show their support by coming out...Thank you guys! OK back to my story! I arrived at the Tenor Madness headquarters with my anxiety level at 9,000!!! As soon as I arrived, Randy stuck me in a room with a recording set up, unlimited saxophones, a zillion variables and saxophone accessories! You see Randy started making his own saxophones years back and over the years he's devoted his life to making a quality instrument..."THE TM CUSTOM"  They are truly in my opinion the best modern tenor saxophones on the market. They resonate with character, have a huge sound, have spot on intonation and of course are set up by Randy. People all over the world pay Randy top $ for his set ups because they are the best. I've never experienced anything like it. Once I picked a horn shell I liked we moved on to choosing a neck...He listened to my taste in sound and immediately showered me with a mountain of necks, ranging from different alloys to finish to style, brand, etc, etc. I'll be posting my neck experience in another blog. Let's just say that it's one of the most significant things you can change to alter your horn's air flow. It can alter your dynamics, technique, tuning, flexibility....Man I had no idea! It's some seriously deep stuff! So after 3 days of testing and the worlds biggest headache, we found my dream sound. Also Randy included me into his roster of super talented TM Endorsers...I'm super excited to show off the sound of my new TM Custom. Ever since I brought it home I have been locked up in my room like the creature that lives in the attic just practicing. Thanks again Randy/Shirley & The Tenor Madness Team. You guys know what's up!
YOU CAN SEE MY NEW SET UP BY CLICKING HERE!