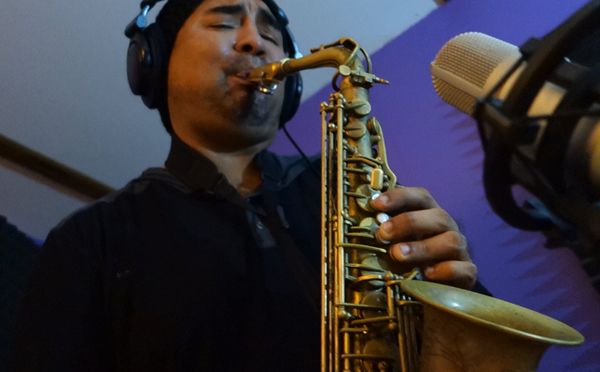 It's pretty thrilling when you can begin to see the end of something that also reflects a new beginning. Playing music has always been an extension of my inner self. Enabling me to always express my inner thoughts whether it may be sadness, anger, peace or plain madness. It gives people the opportunity to connect with me thru sound, spirituality, and several other unknown human traits that we have yet to discover the origins of. The new album is a series of emotions expressed thru song. Stage 1 is Imagine. If you have a dream or are following a course of "YOUR DESTINY" it may start with your imagination. These songs all represent a favorite pastime, something I experienced in life/tour, or an emotion that I feel regarding my current state in my waking life. This is my way of connecting with you and sharing a bit of myself. I had a blast putting it together. I'm in the middle of mixing it and it's sounding great. The team I assembled to bring my imagination to life consisted of my favorite people, musicians, and industry leaders. Without you none of this is possible. It takes a great TEAM to do anything in life...so a extra special thank you for your time and efforts!
"Imagine" is scheduled for release in JULY 2015 so keep your eyes peeled and please join my mailing list on the top of my home page to stay updated. Just click on the "HOME" button on top of the page and it will redirect you to my home page.(for the non savy) ...On the right side of the home page there is a section to add your email to join my mailing list. You will only get email from me! NO JUNK OR SPAM... SCOUTS HONOR! As a part of my mailing list I'll keep you informed on local shows, new music, or just my latest news. Also visit my
PHOTOS PAGE OR JUST CLICK HERE
to see some new pics from the "IMAGINE STUDIO SESSIONS".  I just added them so please enjoy! Keep in touch and hope to see you at the show!
Fabian